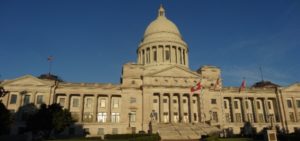 Buddy Fisher, ARPN President, Jim Brettell, Administrative Assistant, attended Pastors Day at the Capitol 2017.
Family Council posted the following two paragraphs on its website:
Last week we (Family Council) hosted Pastors Day at the Capitol in Little Rock. Ministers and church leaders from across the state gathered for a time of prayer, worship, testimony, and fellowship. This is a great opportunity to minister to elected officials and have "church" in the Capitol Building.
This year's Pastors Day at the Capitol was a tremendous success. This link
PASTORS DAY AT THE CAPITOL provides  video footage from the day posted by Family Council.
Plan to attend next year.  When announced, the time and date will be posted on ARPN's  Events page.