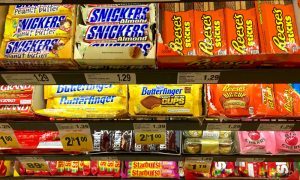 ACTION ALERT: HB1035 passed the Arkansas House of Representatives but failed in Senate committee on February 9, 2017. We hope the bill will be presented to the committee again.
HB1035 by Representative Mary Bentley (R) is a common-sense measure to remove soda drinks and junk food from the items that may be provided under SNAP benefits (still commonly called "food stamps)." This government program was supposed to be about providing nutrition to low income citizens, not junk food and sodas.
A common complaint among shoppers is seeing our tax dollars spent on junk food and soda drinks instead of on food staples. "If it is not about nourishment why are we paying for it?"
HB1035 was blocked in the Senate Committee on Public Health, Welfare and Labor but could be brought up again.
You may be surprised to learn this is a Republican controlled committee with 6 of the 8 committee members being Republicans. Apparently, HB1035 was supported by only 3 of 8 committee members! There was only a voice vote (no roll call vote) so we must rely on information from Representative Bentley indicating that only Senators Cecile Bledsoe, Missy Irving, and Scott Flippo were for the bill.[i]
Why did the bill fail in committee? The Arkansas Democrat-Gazette reported "Asked about the fate of her bill, Bentley said lobbying by grocers — who argued that the cost of implementation would fall on their stores — and soft-drink manufacturers had sunk the measure."[ii] In social media, she added, "Unfortunately, the lobbyists for WalMart and EZmart had more pull than the taxpayers."
Soft drink manufacturers oppose taking sodas out of the food stamp program, but they weren't complaining a few days ago, when the legislature passed Act 141 which gives them a big tax break by reducing the special excise tax on bottled soft drinks, soft-drink powders and on soft-drink syrups.
Walmart and grocers complain of the cost of implementation, but they didn't make a big fuss about the cost of implementing Governor Asa Hutchinson's new law increasing the tax on candy and soda drinks.
Is it really about the cost of implementation or are they just worried about not selling as much junk food and sodas through the government SNAP (food stamp) program.
Sponsors of HB1035 – By: Representatives Bentley, Richmond, Dotson, Ballinger, Barker, Beck, Boyd, Brown, Coleman, Davis, Deffenbaugh, C. Douglas, Drown, C. Fite, L. Fite, Gates, M. Gray, Hammer, G. Hodges, Holcomb, Jean, Ladyman, Lemons, Lowery, A. Mayberry, McCollum, McNair, D. Meeks, S. Meeks, Payton, Petty, Pilkington, B. Smith, Speaks, Sullivan, Vaught, Watson, Womack, Wardlaw, Lundstrum By: Senators Bledsoe, Collins-Smith, Flippo, B. Johnson, Rice, G. Stubblefield
Help get HB1035 get past the committee road block!
Here is the roster of the Senate Public Health Welfare and Labor Committee. Support for HB1035 listed as noted by Representative Bentley.