February 3, 2017
10:00 11:00 AM (EST)
APN Conference Call
Explores How President's Immigration Limitations May Impact Churches
Friday, February 3,  from 10-11 a.m. EST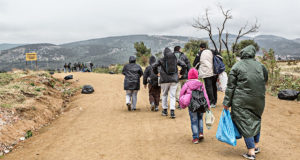 This Friday, the American Pastors Network will host a critical conference call for pastors on how they can respond to the ongoing debate about refugees coming to the United States.
APN President Sam Rohrer is extending the invitation is to APN-associated pastors and is encouraging them to invite others as well. Additional ministry members, such as ushers, teachers, security members, etc., are also welcome to join. The call will focus on how the recent news surrounding immigration and refugees will impact the Church.
WHO:      American Pastors Network.
WHAT:    Pastors conference call on immigration.
WHERE:  APN conference call line:
Dial:  (515) 739-1030
Access Code:  466 203 852#
WHEN:    10-11 A.M. Eastern Standard Time,  Friday, February 3, 2017.
WHY:       To help pastors respond biblically to news about immigration and refugees.
For the first half of the call, Rohrer will welcome special guest John Guandolo, founder of UnderstandingtheThreat.com, an organization dedicated to providing strategic and operational threat-focused consultation, education and training for federal, state and local leadership and agencies, as well as designing strategies at all levels of the community to defeat the enemy. Guandolo is also a former FBI agent and frequent guest on the "Stand in the Gap Today" radio.
Rohrer will address the impact on churches and what they can do in response to or in preparation for security threats, as well as the biblical underpinning of immigration and what it really means for the American people.
According to Rohrer, the call will also help establish the fact that President Trump's decision to limit immigration is constitutional, necessary in the fulfillment of his oath to defend the nation against enemies foreign and domestic and to fulfill his promise to eradicate jihadist Islam. The call will also consider the most basic potential impacts and reactions by embedded jihadist Islam in America, particularly against churches and the appropriate responses local churches can and should take to protect themselves against already identified threats.
Call participants will have the chance to pose questions in the second half of the call.